Can you believe that it's Friday…again?!?
This week has flown by for me! It's been a rainy week. I knew our campus was known to flood, but man. There was a river flowing across our quad, complete with rippling currents.
My rainy week has come to a quick end, but before I can partake in all our EP events this weekend (including Miss Bridgewater and The Glow Dance), it's time for my favorite Friday morning ritual…Friday Fives with Beth!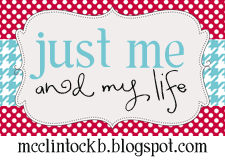 This week's theme is…5 shows that are coming back on fall that you have missed over the Summer! That's right we are talking TV AGAIN!!!
5. Grey's Anatomy
McDreamy, McSteamy, Alex Korev…mmmm. How can you not want to just watch Grey's?
And the drama! Oh me, oh my. The girls and I were quite squeal-y during last week's season premiere. And how can you not be? The secrets, the revelations, the healing, the love.
It's Grey's.
And it makes the best transition to Friday!
4. Bones
Can I just say, David Boreanaz (Am I sensing a theme here)?
Booth, Bones, and the other Jeffersonian lab rats have a special place in my hearts.
The cases, the crimes, the friendships.
Everyone needs a little Bones in their life.
3. Gossip Girl
Chuck Bass.
Dan Humphrey.
Gossip. 
Tiffany's.
Headbands and bows.
2. GLEE!
Good music, awesome dancing, and Finn Hudson.
Who doesn't love Journey?? And Britney! Ah. I love it so!!
1. Brothers and Sisters
Ahhh. I've shared with you my love of the ABC drama, Brothers and Sisters many times before. And my infatuation hasn't dimmed in the wake of summer. 
Their family dynamic and beautiful homes. Their friendships and their marriages.
There's just something about the Walkers that makes me want to be just like them!
And because you know how I love me some TV time…
One Tree Hill, Big Love & Desperate Housewives!
Another great week for Friday Fives! Make sure to check out everyone else's answers by hopping over to Beth's bloggie!
And have a great weekend!