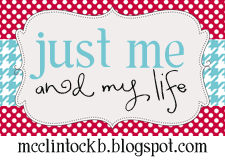 It's Friday!!!
And that no longer just means that it's almost the weekend, but that it's also time for Friday Five at Just Me and My Life!
This week's theme…Five Favorite Websites. The hard part? Narrowing the list down to five!
Let the countdown begin…
5. Youtube.
Gotta catch up on my soapies! And my General Hospital, Dante/Lulu love-ins!
4.  Blogger.
The perfect place to reconnect with all my favorite ladies and gentlemen out there in bloggie-land! I don't know what I would do if I hadn't stumbled upon the wee sight all those years ago…
There's just something so refreshing about Kelle Hampton's blog. Her photography. Her writing style. Her outlook on life. I love her. You might remember her from here. (Click the header to take you to Mrs. Hampton's bloggie. )
Bookmarked on both my computer and Blackberry. A real must. Checked multiple times a day. Can't get enough of my celebrity gossip. Really. I'm beginning to think I have a problem.
1. Facebook.
Yeah. Um. I Skype. I tweet. I blog. I friend. I Facebook. What can I say? I'm an addict. Better that then something else I'd say…ha!
And some top contenders…
Netflix: For all the cinema lovers wants and needs…all for $9 a month.
Amazon: For all the book readers wants and needs via Mr. Kindle.
Another great week for Friday Five! Hop over to Beth's bloggie to check out the other linkys!